Owners Since 2009: Lawrence & Victoria Noyes
In 1986, the previous owners Winston and his wife Linda decided to diversify from their logging service contracting business from Scott Paper by purchasing the 30 acres and existing buildings. Not much else was there except for scrap metal piles and old broken down school buses used for storage.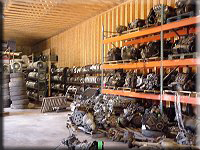 Now, many years later,
Sun Auto is a recycling yard, specializing in vehicles, which are no more than 10 years old.
At the push of a button they know what parts they have in stock, how many of each, how long each has been there and exactly where it is located. If they don't have the part you are looking for on site, their satellite links (Hot Lines - Eden - Orion & Car-Parts.com) make it easy to find who has it and how long it will take to get it for you.
See March 2, 1992 Morning Sentinel Article - By Terry H. Sanborn, Sentinel Staff